Threaded Inserts for Wood, Metal and Plastic
Find the best threaded inserts for metal, wood and other materials at E-Z LOK. Our innovative hardware designs work across hundreds of applications. Whether you are working in construction, agriculture or metal fabrication our threaded inserts are the right choice. Get the most out of your fasteners with insert nuts for wood, metal and plastic from E-Z LOK.
How To Use Threaded Inserts
Threaded inserts create strong fastening solutions in different materials. With threaded inserts from E-Z LOK, you can repair damaged fasteners or create strong connections where they didn't exist before. In softer materials, insert nuts for wood or plastic can dramatically extend the life of your connection and create strong bonds that otherwise wouldn't be possible.
How To Install Threaded Inserts in Wood, Metal and Plastic
Installing threaded inserts is fast and easy with the right equipment. Depending on the material being threaded, you can use a number of different tools and techniques to install insert nuts for wood, threaded inserts for metal and other materials.
If you're ready to install your threaded inserts for wood, purchase your threaded inserts for wood today!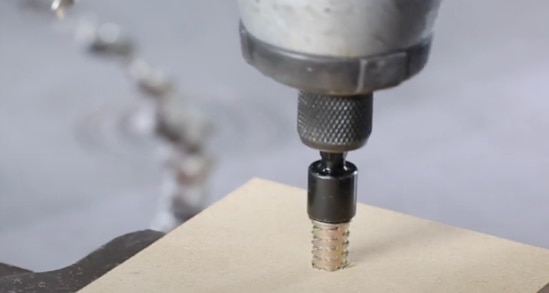 Threaded Inserts for Metal
The first step to installing your thread inserts for metal is to drill the pilot hole. Next, tap the hole. Clear the area of all debris and make sure you have a clean hole. Then, you will install the threaded insert for metal by threaded it into place.
We sell threaded inserts for metal in both carbon and stainless steel to best suit your application. Our stainless steel inserts are the best for corrosion resistance and clean-critical uses. For reinforcement or to repair damaged threads in cast iron and other soft metals, our carbon steel thread inserts are a game-changer. Or, to repair tapped holes in soft metal, you can use helical threaded inserts.
Threaded Inserts for Wood and Plastic
Use the proper thread insert for soft and hardwood applications to achieve the desired results. Finserts thread inserts for soft wood have slotted designs to minimize splitting. With simple press-in installation, these fasteners are ideal for plywood and other softwood varieties. They are also viable as 3D printer threaded inserts for plastic.
For hardwood applications, E-Z LOK has developed thread inserts that maximize holding power in oak, cherry, maple, etc. Used extensively in furniture, cabinetry, marine applications and shipping containers, E-Z Knife™ threaded inserts for wood are available in brass and stainless steel.
Make E-Z LOK Your Hardware Supplier Today
Shop online for threaded inserts that will exceed your expectations for quality and strength. Our threaded inserts for wood, metal and plastic are available for purchase in our online store or through our international distribution network. At E-Z LOK, we are committed to creating the best hardware fasteners and thread inserts while providing excellent customer service. Check out our knowledge center for more information on using and installing your threaded inserts. Browse our catalog for a full line of available products and order from E-Z LOK today.