E-Z Coil™ Thread Repair Kits
Don't start your next project without the E-Z Coil™ Thread Repair Kit from E-Z LOK. Our large helix coil kit selection includes all the essential items you need to install and repair tapped holes in softer metal materials like cast iron, mild steel and aluminum.
Depending on your specific needs, we offer both standard and budget-friendly equipment in an assortment of sizes. Each E-Z Coil™ Thread Repair Kit includes a set of inserts, an STI tap and an installation tool; the standard edition also includes a tang break tool and drill.
Each helix coil kit is offered in three separate styles:
For spark plugs
In metric sizes
In inch sizes
In addition to what we offer below, E-Z LOK™ has kits for other applications, such as the E-Z Knife™ Thread Repair Kit for hard wood and E-Z Hex™ Threaded Insert Installation Kit for Soft Wood.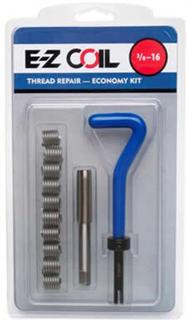 E-Z Coil™ - Economy Kits
Available In:
Inch kits from #2 to 1-1/2
Metric kits from M3 to M39
Spark plug kits from M10 to M18
Kit includes:
Threaded Inserts
STI tap
Installation Tool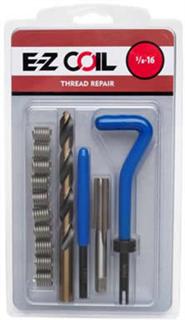 E-Z Coil™ - Standard Kits
Available In:
Inch kits from #2 to 1-1/2
Metric kits from M3 to M39
Spark plug kits from M10 to M18
Kit includes:
Threaded Inserts
Drill
STI Tap
Installation and Tang Break Tool