E-Z Coil™ Installation Insert Tool
With the help of an E-Z Coil™ installation insert tool, you can quickly fortify or repair tapped holes in soft metal materials along with our high-quality E-Z Coil™ wire inserts. Each mandrel-style insert tool and manual tang break tool we sell offers a low-cost solution for efficiently installing our premium inserts. Our tools are available in a variety of sizes, from 9/16 to 1/4 inches.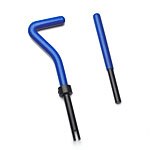 Mandrel-style installation tools and manual tang break tools for every E-Z Coil™ insert.